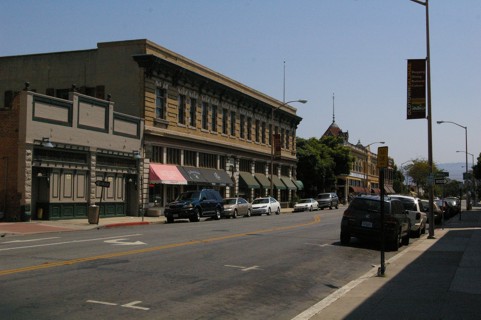 Since I no longer had a bike to ride, I was forced to drive into Salinas (pictured above) to get a bus shuttle into the track area. Car traffic was at an absolute minimum.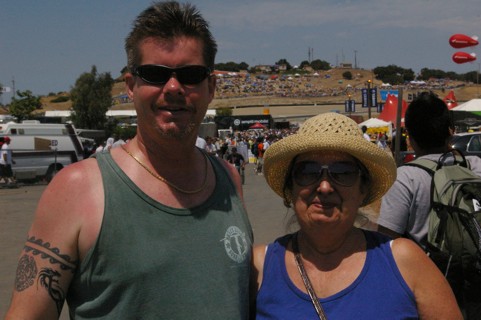 On the bus I chatted with lady who had moved from Oahu to California several years ago (a chiily CA summer on her arrival made her worry greatly about her choice!). She and her brother were attending the races together.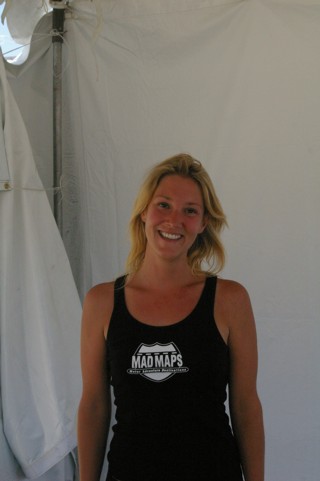 Upon entering the grounds, I noticed a booth giving out Monterey area ride maps. At a closer glance, I realized it was Mad Maps! A Mad Map had made my trip to Tennessee an exceptional experience! Turns out Mad Maps was the idea of a woman (of course) and many of her employees are also women. For fun, I started doing my own promotion by giving a testimonial about my experience with the map to severl passers-by.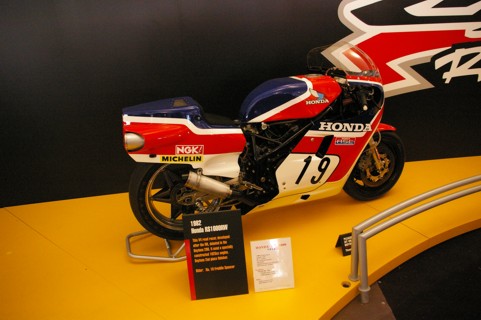 A Fast Freddy Spencer race bike. Honda had a display of many of its old and new race bikes.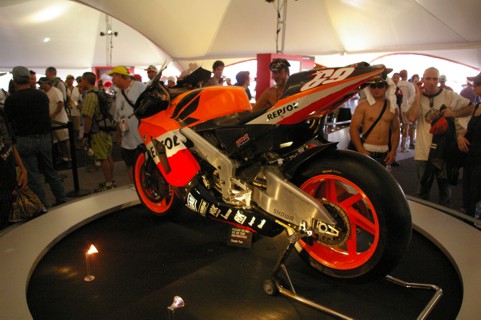 I think this was Nicky Hayden's '05 bike. If not, it would be a replica of the bike he was driving on the weekend.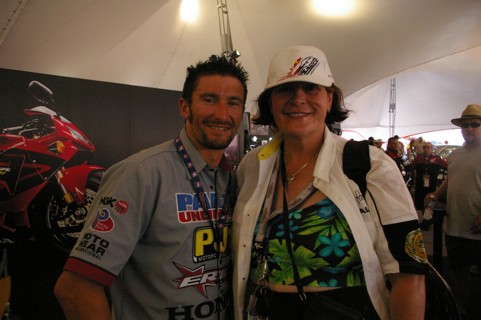 A picture of me and Josh Hayes. I thought his wife was also getting into the picture but she ducked out t last minute, I guess. She was very nice.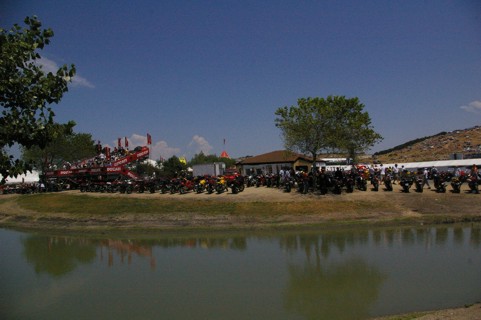 If you rode a Ducati to the races, you were allowed to park on Ducati Island. There were an awful lot of red bikes there.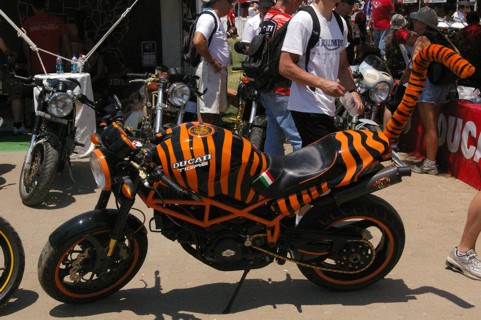 Personally, I wouldn't decorate MY Ducati (if I owwned one, that is) like this. There was a contest for best customizations.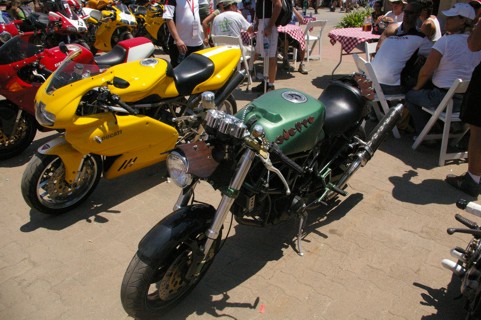 I hope this bbike with wood accents got a prize. It was a neat idea.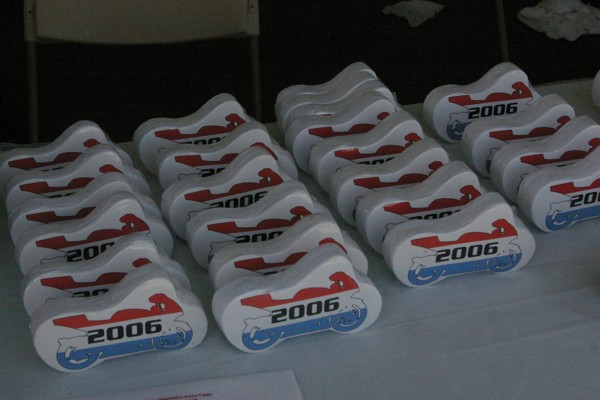 Guess what these packages are? T-Shirts!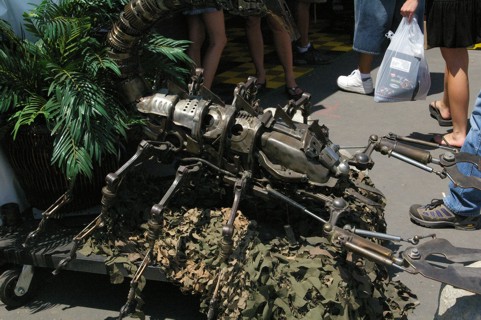 A sculpture made entirely of discarded parts.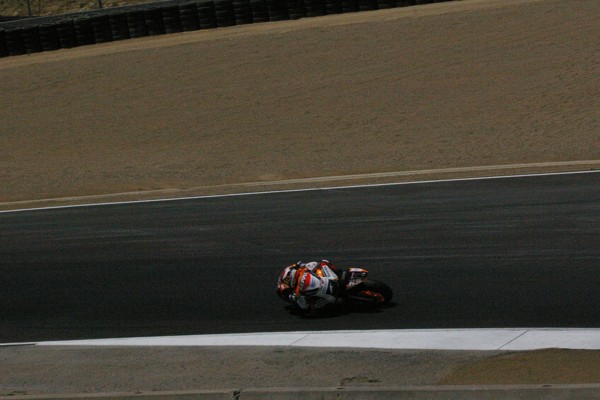 Hayden was FLYING during the Moto GP race. he started 6th on the pole and quickly moved up to 3rd.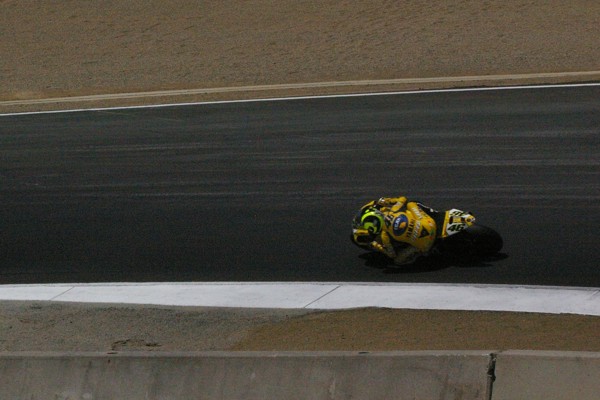 Valentino had his troubles today. He started fairly far back in the pack and moved up to 4th/5th before something mechanical happened to his bike. He didn't finish the race (short 1-2 laps) so got NO points for the championship this day.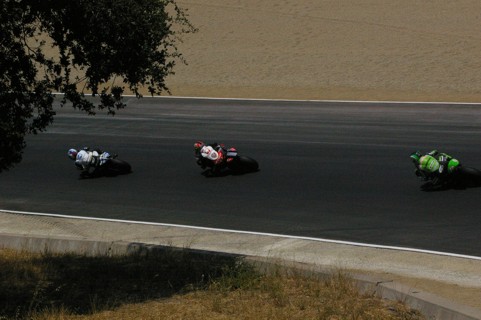 Tamada followed closely by Hoffman and DePuniet.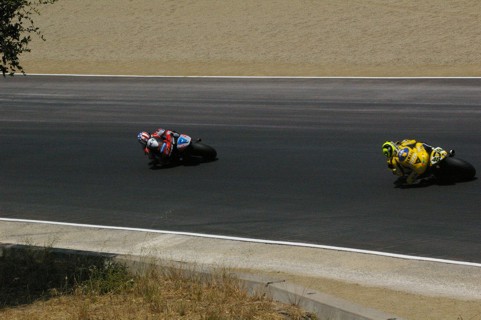 Rossi eventually passed Kenny Roberts Jr. only to have mechanical problems late in the race.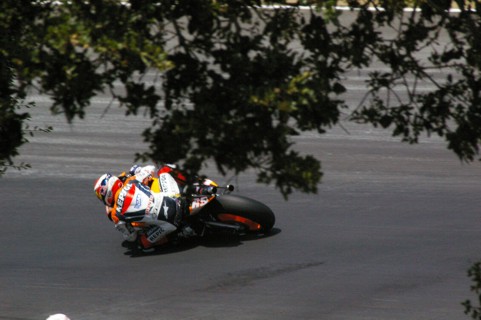 After Hayden got into third, he worked hard to pass Pedrosa and then Melandri to take the lead.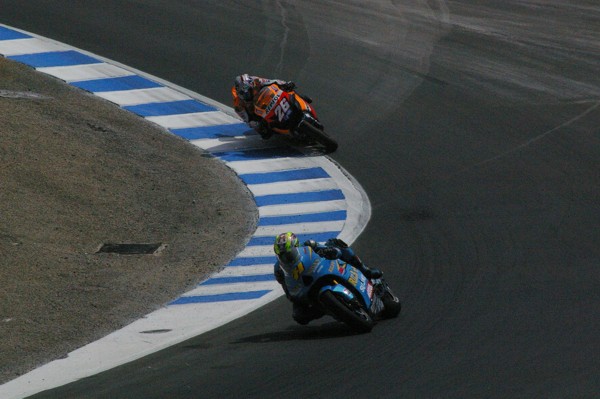 Vermeulen and Pedrosa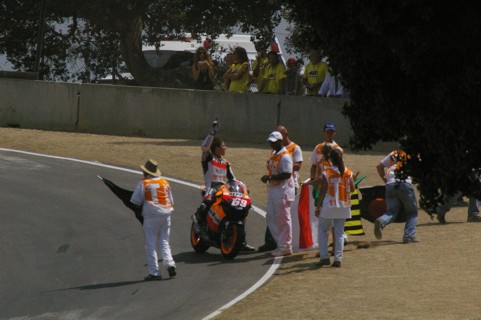 Once Hayden was in the lead, it was all over. Three Hondas on the podium... Hayden, Melandri, Pedrosa.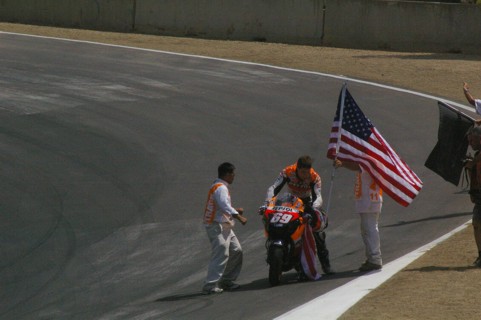 The corner workers at the Corkscrew gave Nicky so many flags to carry, he actually dropped one!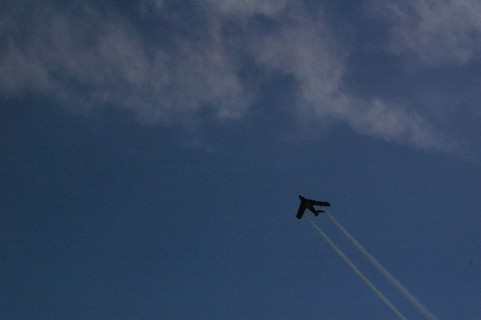 The Red Bull MIG did a fly by after the race. Evidently, the man flying the MIG was actually in combat aganst them (I think they said) in the Gulf War.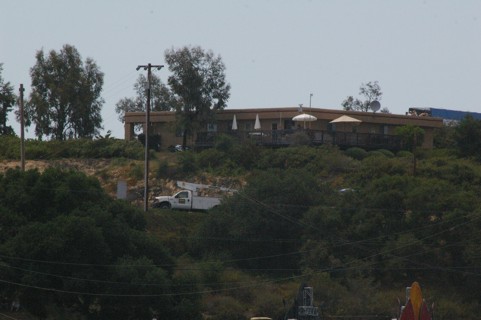 There's where I spent a good deal of yesterday... The only racing I saw yesterday morning was from the patio/porch of the Scramp office.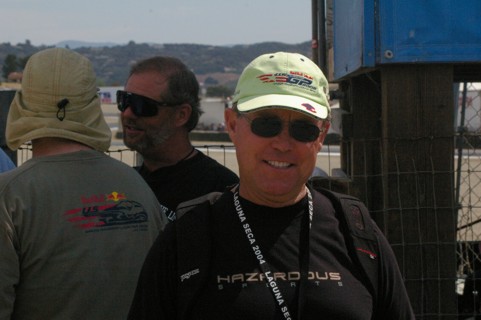 Here's Charlie. He owns a BMW K1200S and loves it as much as I love my R. He had great sympathy for Thor's condition (Thor is my bike's name). Charlie is a construction manager in Southern California. The two of us had a wonderful chat, or maybe *I* did all the talking... :)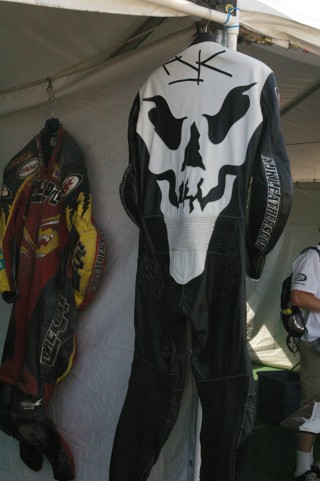 How about these custom leathers?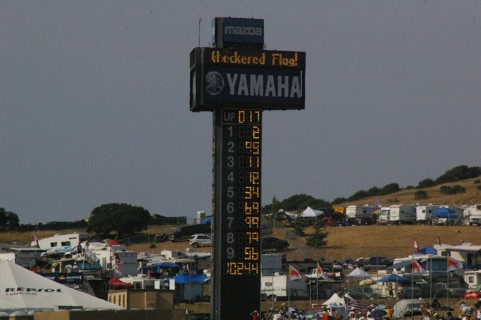 I watched the SuperSport race down the 4-5 straight with views of both turns 4 & 5 but because of the chain link fence, none of my pictures of the race were that good. I did learn something, though. Take a picture at the end of the race to remember the results. Jamie Hacking won this race and then he got on his SuperStock bike and won the next race, too. He ran away with SuperSport but the SuperStock was hotly contested with Aaron Yates and Eric Bostrom.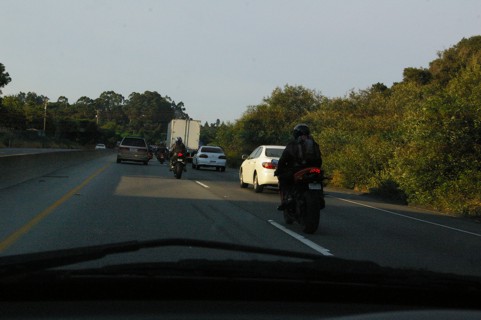 Lane splitting... bikes do it all the time on the freeway when traffic gets slow. Car drivers (like me now, unfortunately) have to be very careful when changing lanes.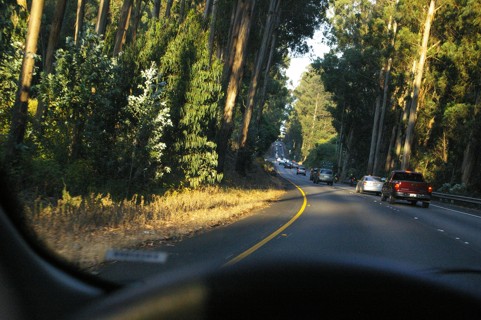 I drove down this freeway surrounded by trees three times (on the way to the track) before the accident and would have stopped to take a picture Sunday to remember the place where I would lift my "lid" to smell the trrees. The smell isn't as nice from a car.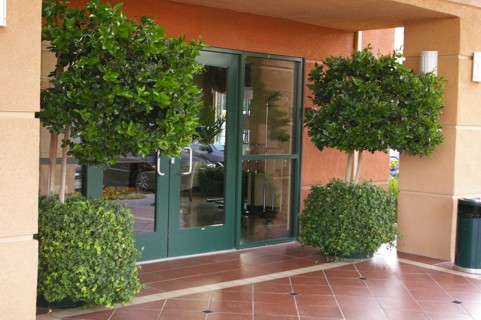 Well, here's the entrance to my "jail" for the next few days. I'll probably be spending more than a bit of time on the phone with insurance people...