Just another day at the races...
How the day started: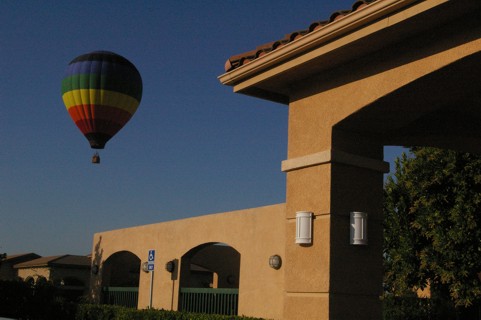 As I backed up from my hotel parking space, a balloon was landing...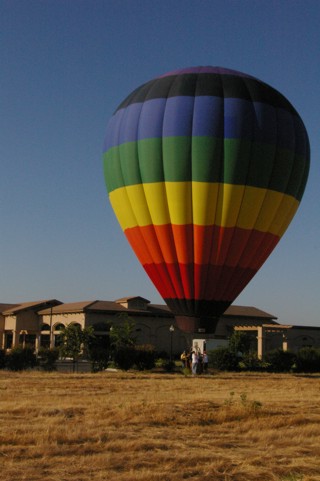 ...next door at the Harley Davidson store.
Only ONE high(LOW)light: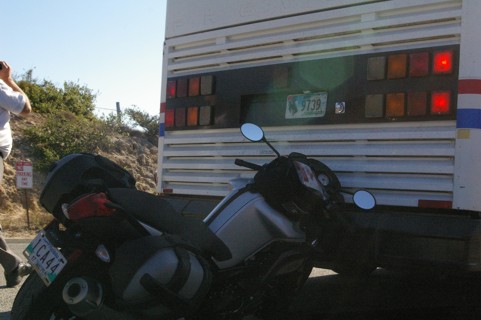 So ask me what goes through your head when you're on a steep downhill road and the bus in front of you starts bcking up?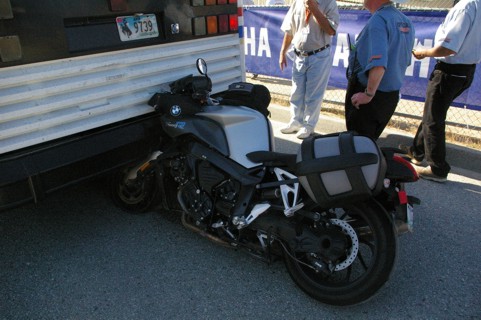 You TRY to get off the bike that is being eaten inch by inch by the bus and you pound on the back of the bus with your fists.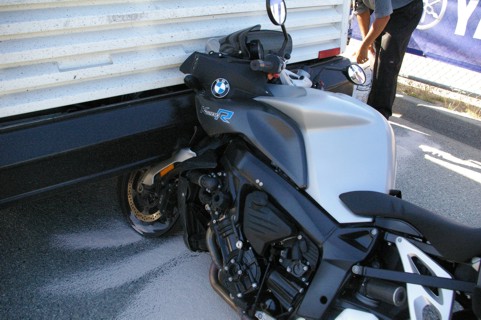 You also thank goodness for Good Samaritans who run to the front of the bus to make the bus driver stop before the bus eats you, too.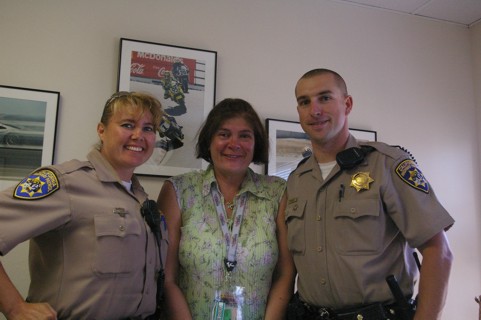 From then on, it's a nightmare only broken by helpful people like these two "CHIPpies" who took my statement.
The rookie (guy) was guided by the veteran (lady) who was nice enough to show me her REAl gold badge that had pictures of her two children on the back.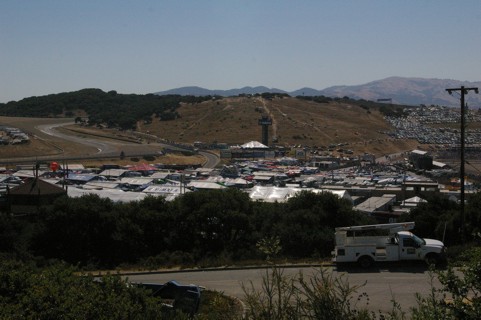 You hang out at the SCRAMP office (Southern California Race Association, Monterey Penninsula, I believe) which has a decent view on their outdoor porch.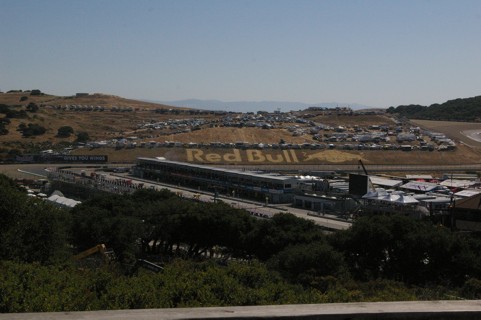 You try to think positively: "I was wondering how I was going to get a good picture of that Red Bull Logo burned into the hill."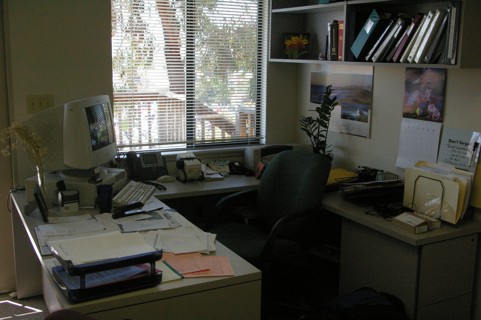 You, being Barbara (called Bobbie Jo by your late father) Hall hang out in Bobbie Hall's office while things are being arranged for you.
Freaky fact: One of her cats looks just like one of yours. Do you think it's called Samantha, too?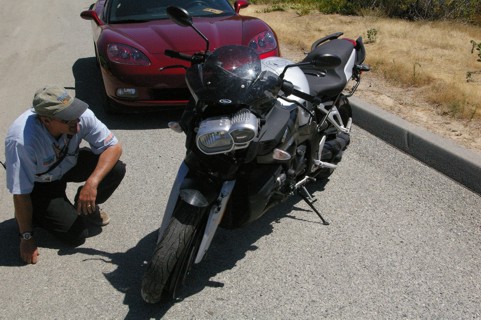 You try not to cy too much when you're led to your now freed bike.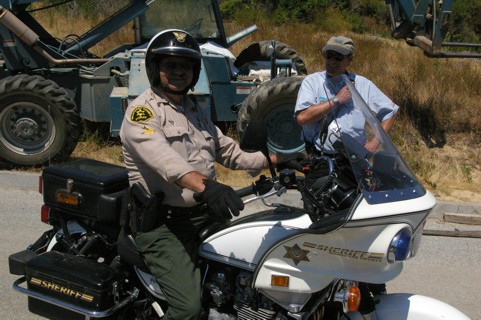 A nice Sheriff from the Monterey penninsula and you try to smile at his kind words.
The Best Parts of my day...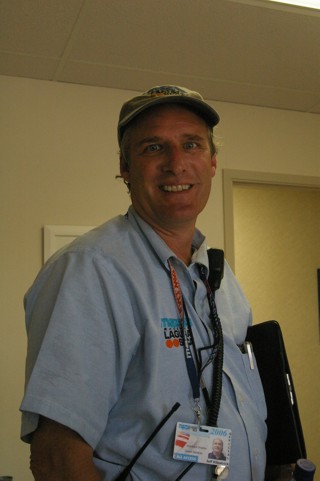 Jeff, who works for SCRAMP, took all the details down. He helped me deal with the fire department, ambulance people,
driver of the bus, gave me water, gave me a ride to shelter, and dealt with the towing of the bike.
He wrote down all the pertinent details which I would later need, including getting a second witness. I realize some of these things are part of his job,
but he did them in a caring and concerned way which I greatly appreciated.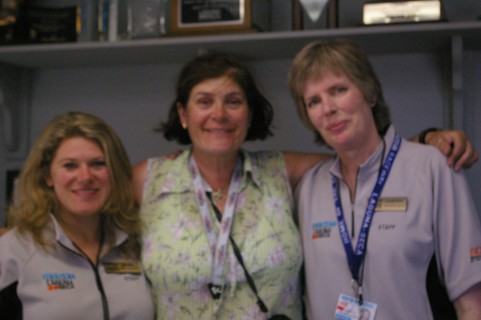 Jeff left me in the care of Emily (left) and Claire (right).
No one could have been more efficient at fielding unexpected phone calls from my family (cousin, Ross, from Ukiah, CA) than Emily.
And Claire was a wonder! She was more than helpful, getting me important phone numbers, helping me deal temporarily with the bike,
finding out transportation information, and guiding cousin Ross to my rescue.
But more important than any of those things, those two ladies were the nicest of nice.
They were very sweet to me when I was basically hysterical and did everything they could to make my life easier during
those dredful hours after the accident. SCRAMP is very lucky to have such sweet and organized employees!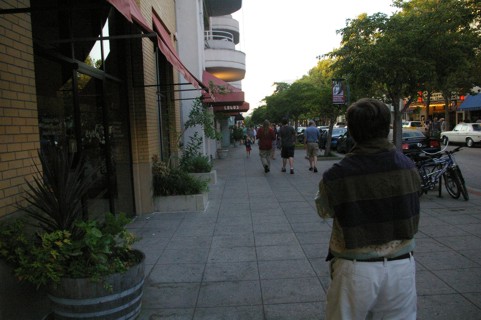 And my cousin Ross was a rock. He didn't listen to me when I said, "You don't have to come".
Instead he drove 4 hours plus from Ukiah and patiently waited on the edge of the race grounds for an hour to come and be my support when I greatly needed one.
Once he picked me up, we went for dinner in Santa Clara (he's walking down a main street in this picture) and talked through different options I had.
We decided to go to the San Jose Airport to get me a rent-a-car. I knew I'dd need transportaion to deal with all the crap coming up.

What else happened today: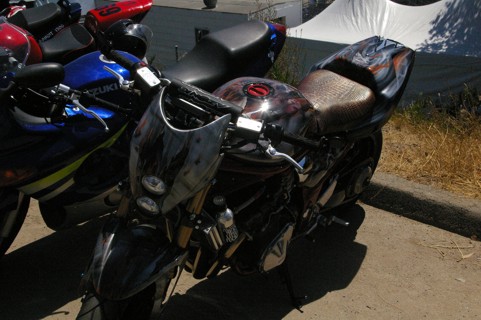 My cousin was on the way, all the paperwork that could be done was done, so I decided to go see what was left of the races for the day.
I got to cut through the "rich people, special box section" where I saw this bike (anyone know what it is?)
with the "glam" (aka "bling bling") alligator seat.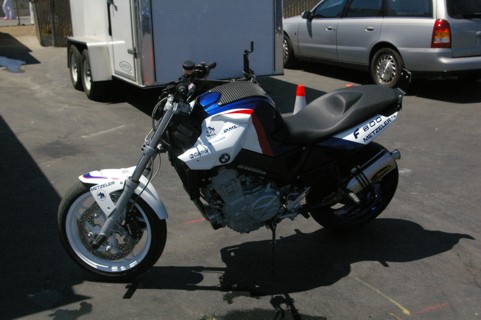 This was Chris Phiefer's 800 cc BMW that he used for the stunt shows between races.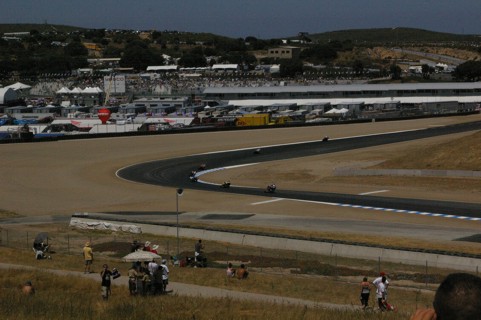 Turn 11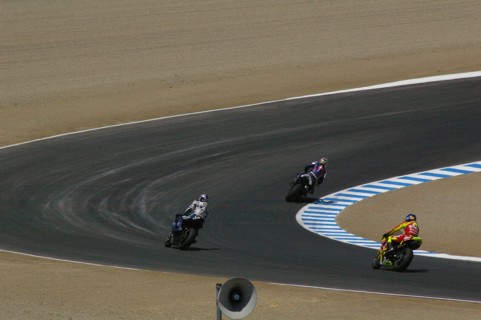 I saw a bit of the Formula Extreme race and I was glad that E-Boss (Eric Bostrom) won.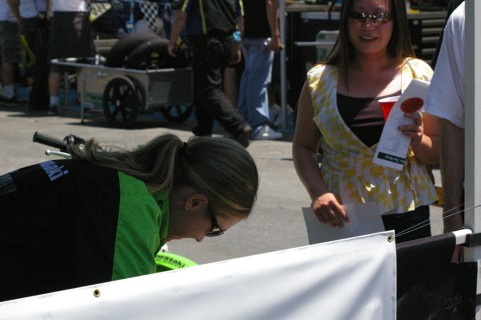 On my way through the Paddock, I found out that there is now a female ride (Jessica Zalusky) on the AMA circuit.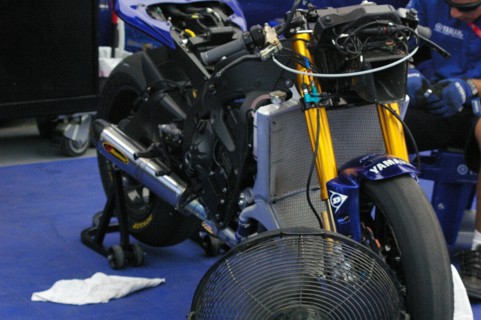 The track was so hot, the bikes got equally hot ON the track.
They cooled E-Boss's bike down using a fan.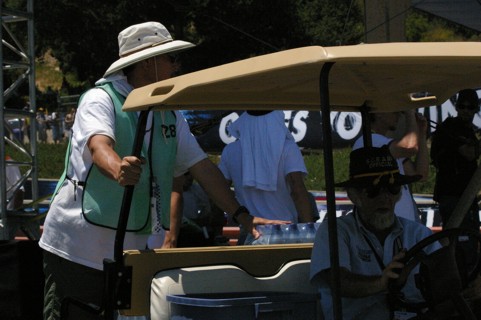 Some friendly volunteers and SCRAMP workers commiserated with me on the crunching of my bike.
The one riding the cart gave me Tootsie pop to cheer me up.

he volunteer was a bodyshop painter and gave me some good advice about dealing with my claim.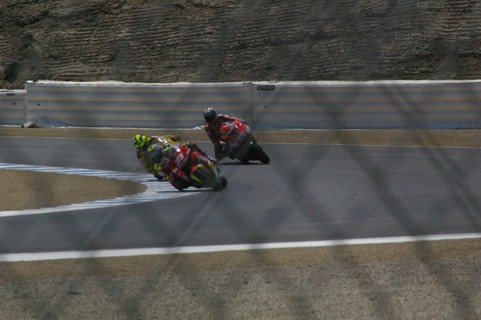 The qualifying laps for MotoGP were wicked. Here are Melandri, Rossi, and Gibernau "duking" it out.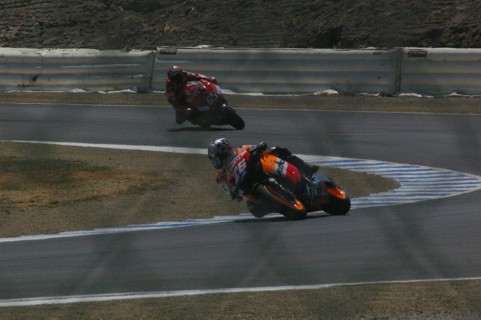 Pedrosa followed by Capirossi.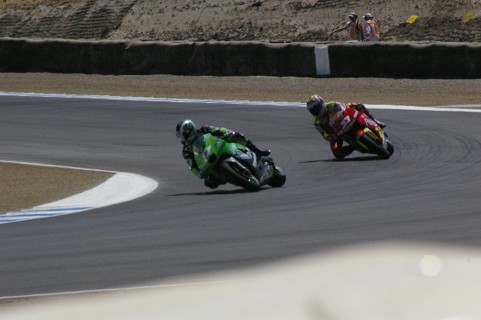 DePuniet followed by Melandri. Nicky Hayden had been leading the qualifying times right to the end when
several guys passed his best time, making him 6th on the pole and Melandri first.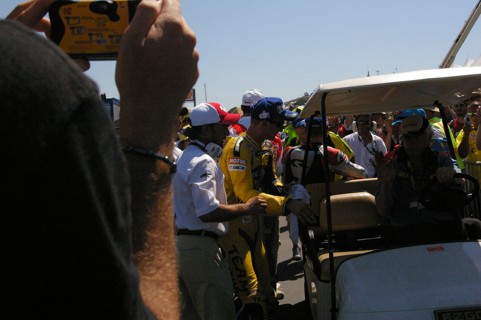 After te qualifying round, we saw Colin Edwards who was in a rush to get to where he was going.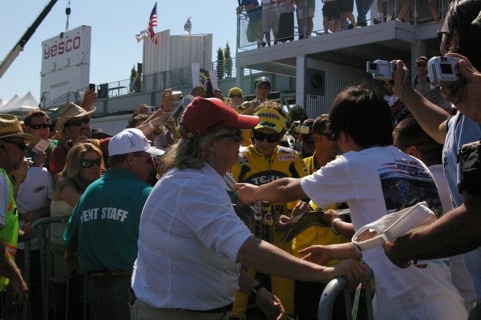 Rossi, when he finally came out of the mechanics area, wa very personable.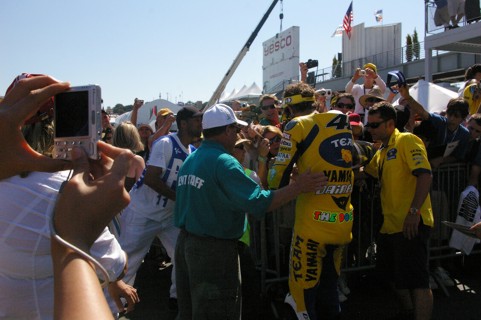 Vale signed many autographs, but unfortunately,,,none right near me. He's taller than I thought but VERY slim.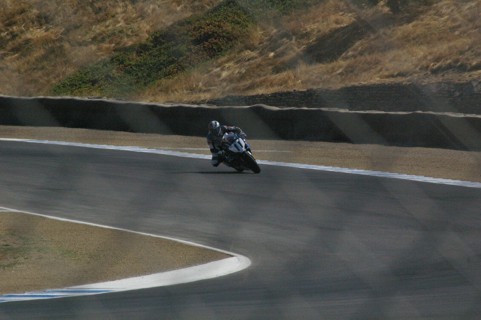 In the Superbike race, it was a runaway for Ben Spies.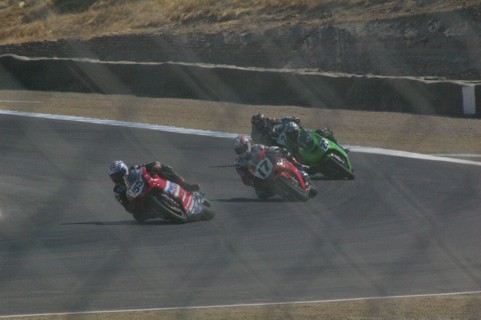 The race for the next few spots was wild. Here's Ben Bostrom, Miguel Duhamel, Tommy Hayden, and Aaron Yates
sharing corner 3. I started feeling sick from the heat (and my all the trauma I went through) and I never ended up seeing the end of the race.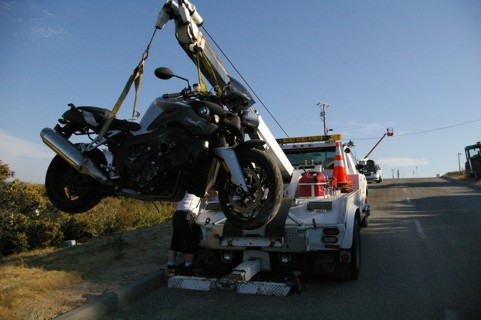 They had to move my bike to a safer storage spot since a tow truck would not be available until Monday.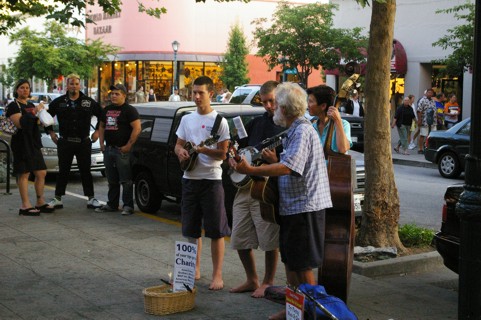 Ross ended up at the SCRAMP offices about the same time I did.
We took off as soon as we could. I certainly had had enough for the day. Wee drove out to the coast
and up Highway 1 to Santa Clara for dinner. These "pickers" were entertaining people on the street.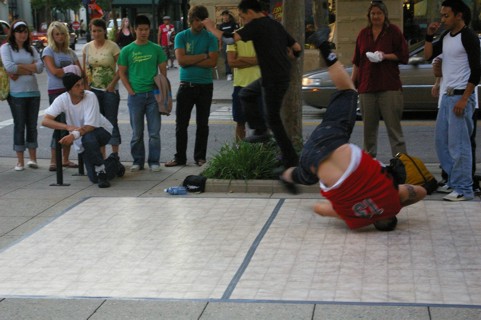 There was also some pretty awesome break dancers.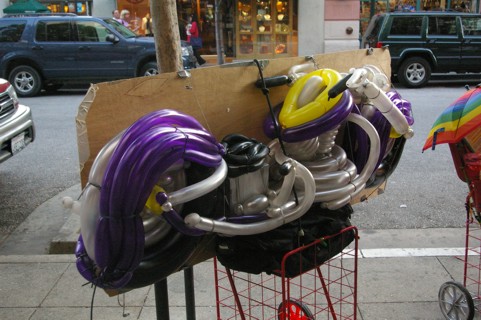 It's fitting that my daay would start and end with balloons... This motorcycle is probably in better condition than mine!