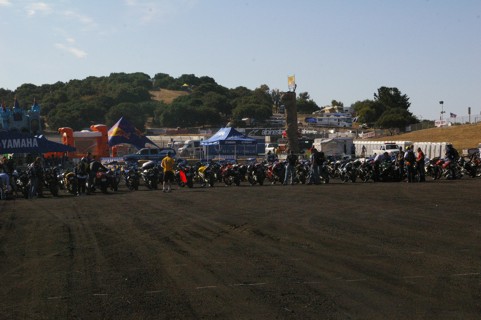 Motorcycle parking ONLY! The way it should be.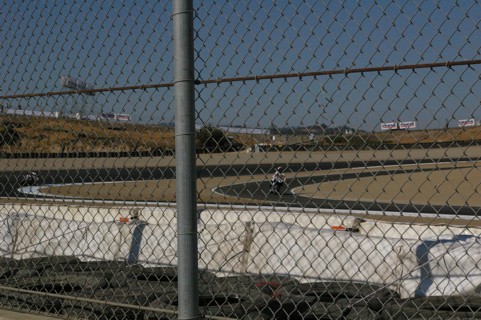 Although not a great shot, this picture is significant since it was my first look at the track. The bike on the left strip of road is negotiating turn 2. The bike on the right hand road is entering from the pits.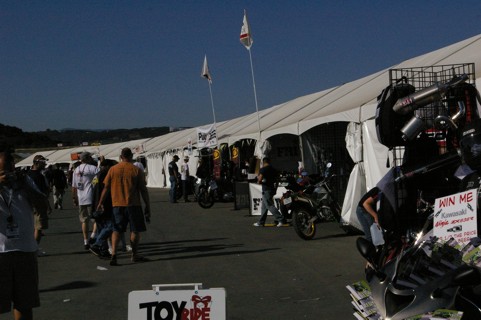 The Yamaha Marketplace where you could easily spend your life savings on motorcycles, gear, and souvenirs.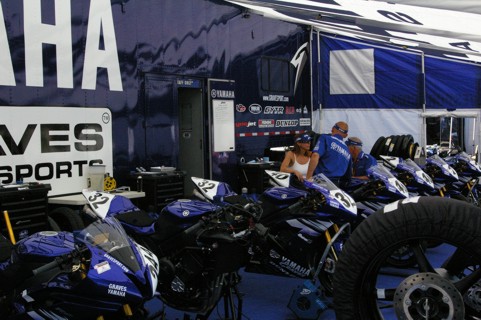 Team Graves Yamaha: Eric Bostrom, Jason DiSalvo, Jamie Hacking's bikes.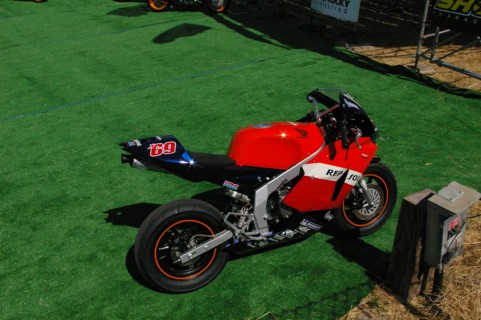 At the Repsol Honda Center, they had this mini bike on display. I want it!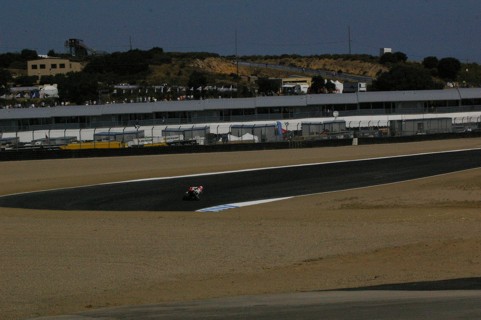 This is turn 10 at the bottom end of "The Corkscrew" and "Rainey Curve".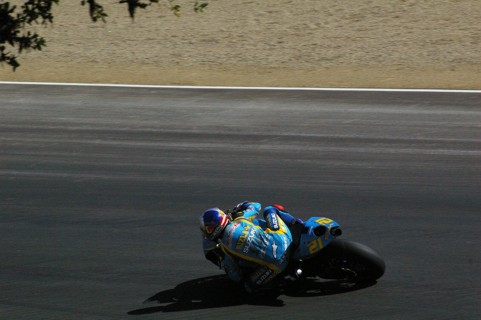 John Hopkins riding the Rainey Curve.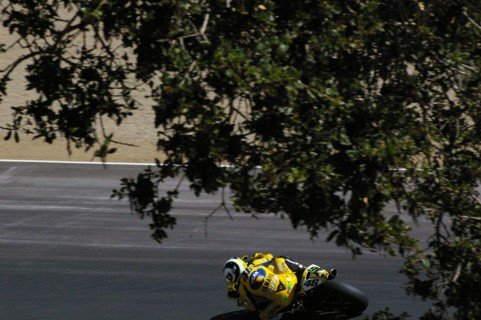 My first glimpse of Valentino Rossi. He went by so quickly I wasn't sure it actually was him until I checked the picture.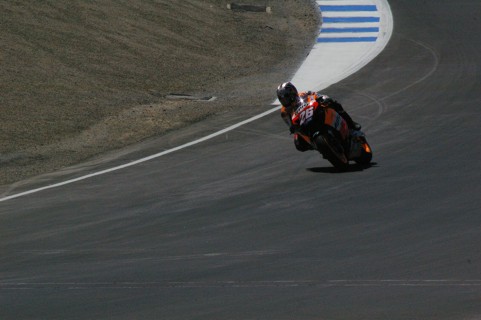 Dani Pedrosa on the bottom end of the Corkscrew. What a drop!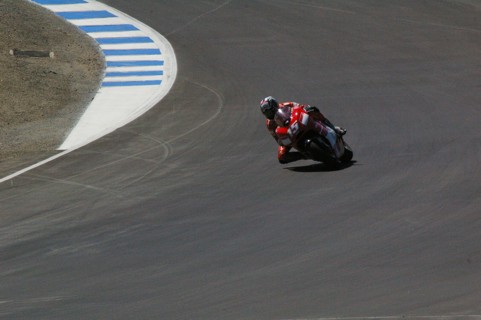 Sete Gibernau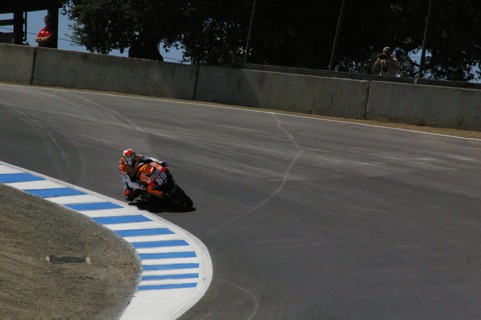 Nicky Hayden. Man, he was SOOOO smooth on the bike... and awesome fast!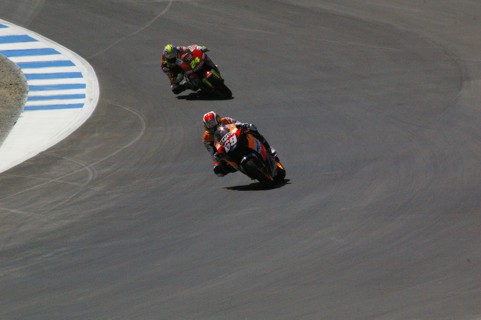 Hayden and Toni Elias sharing the turn.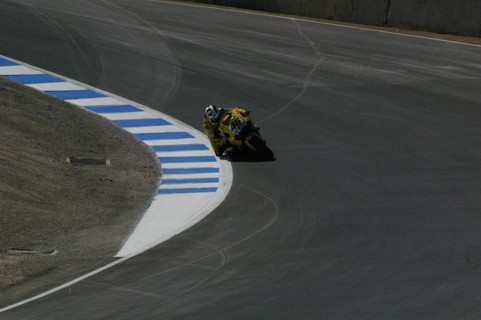 Valentino. GO!!!!!!!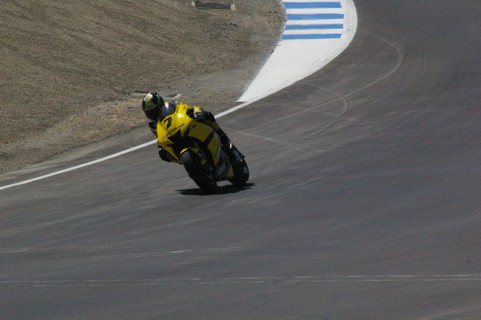 Carlos Checa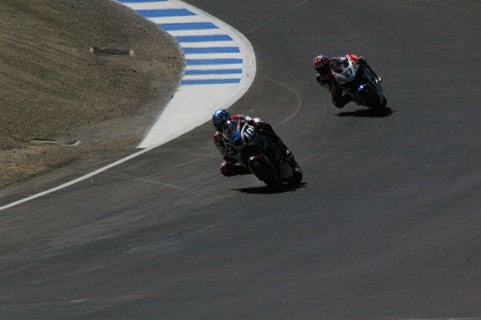 Kenny Roberts Jr. followed by Casey Stoner.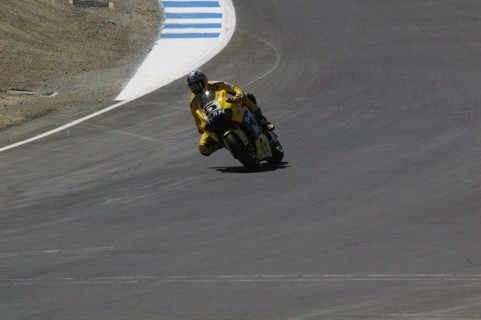 Colin Edwards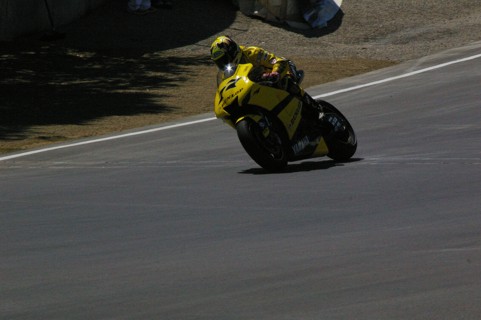 James Ellison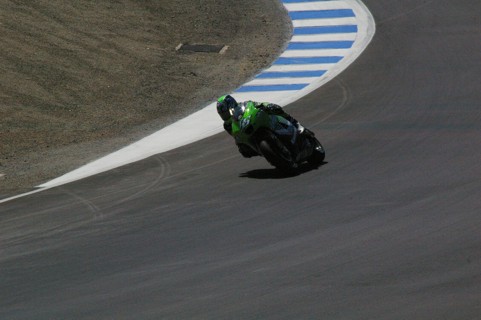 Shinya Nakano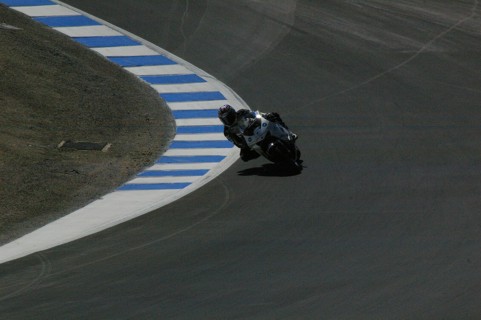 Makoto Tamada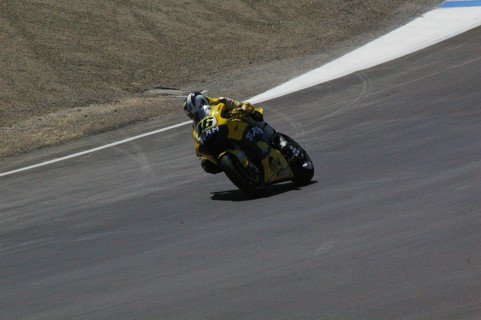 Gosh, I wish I could ride half as well as Vale.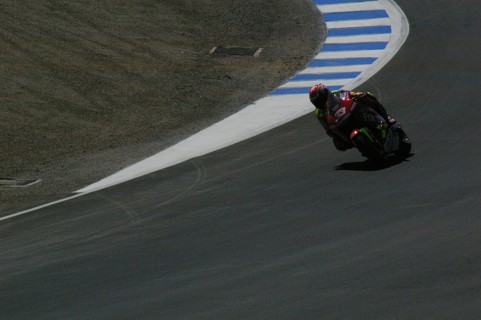 Marco Melandri was one of the premier riders during practice.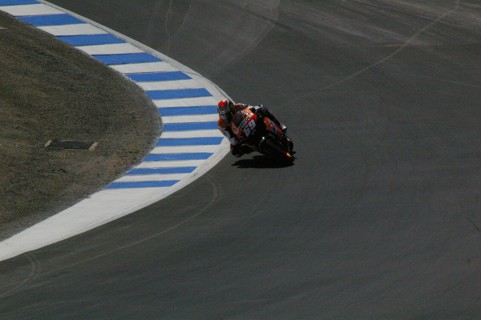 Nicky Hayden looked like he was born riding a bike.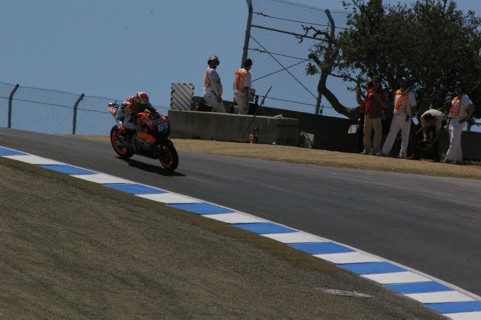 I don't know a lot about PICKING lines, but he OBVIOUSLY did. Here is one of his starts into the Corkscrew.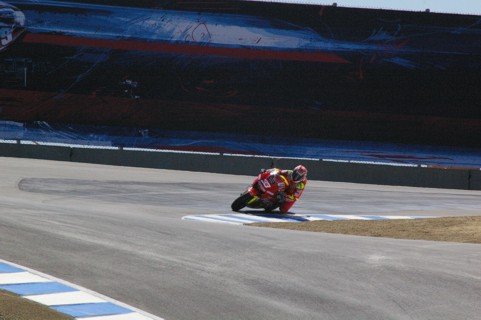 Another shot of Melandri.

You can tell from this picture how quickly you change your body's lean from the top end to the bottom of the Corkscrew. Alex Hoffman leads, John Hopkins follows.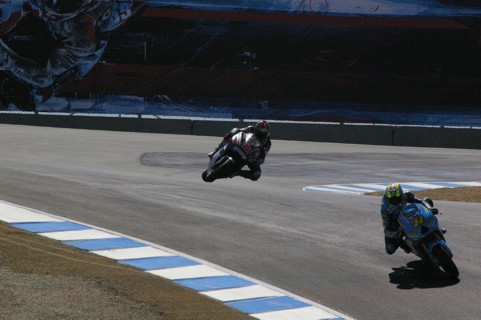 Chris Vermeulen leads Jose Cardoso.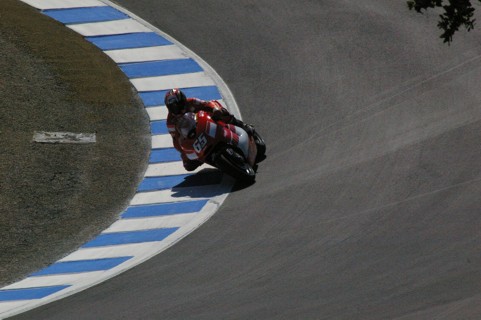 This picture of Loris Capirossi shows a little better the extreme angle the Corkscrew exits into.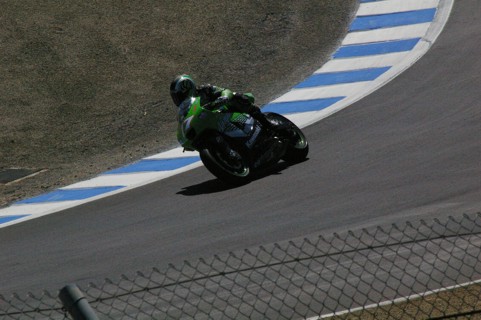 Randy DePuniet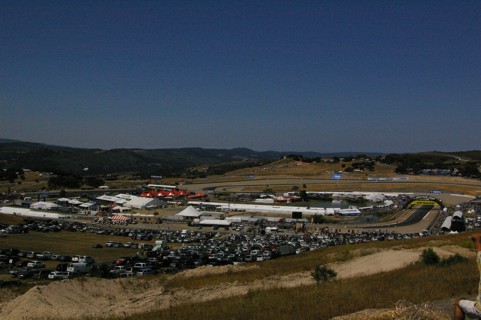 A view of Mazda Laguna Seca Raceway from the top of the Corkscrew hill, walking towards turn 6.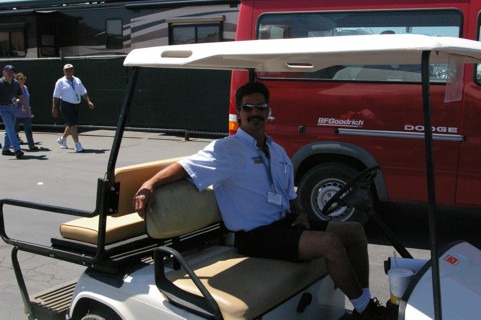 This kind gentleman gave me a ride down the hill. I was sweating buckets by that time and must have looked a little limp! :)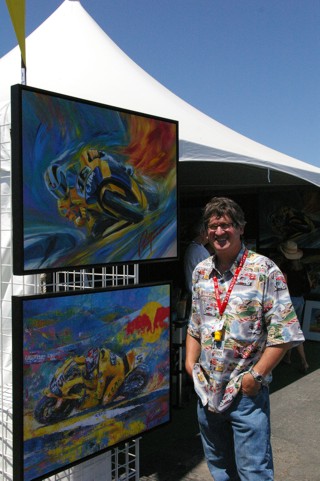 I was let off in the Paddock where the official track artist was showing off his original and printed paintings. The colors were awesome.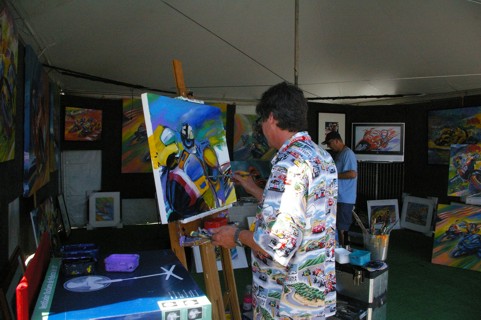 Here is Bill Patterson painting a commissioned work.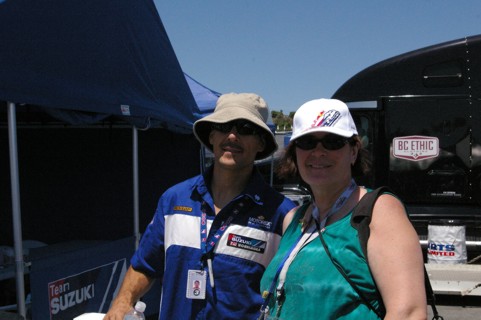 In the Paddock, I also met up with a favourite rider - Aaron Yates.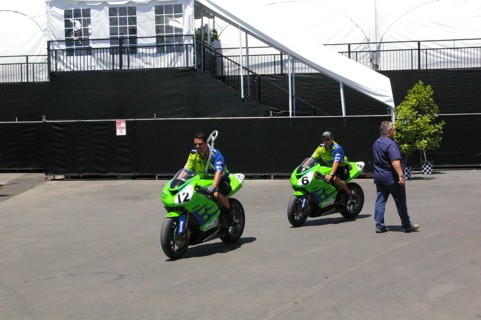 In the AMA races, the unsponsored riders drive their own bikes out of the track area. Factory riders have people to do it for them... I would LOVE to have the job of whipping Ben Attard's or Damon Buckmaster's bike to the garage!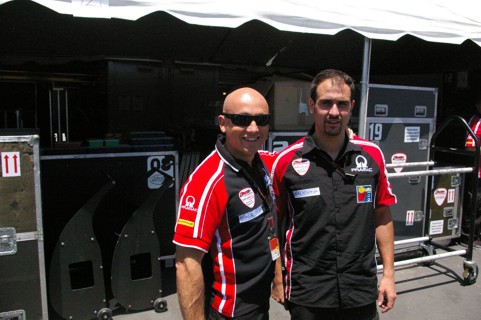 Here are two members of the D'Antin Pramac Ducati crew. Both are from Spain (Barcelona & Madrid) but speak very good English. They told me that they are lucky to be home 100 days a year.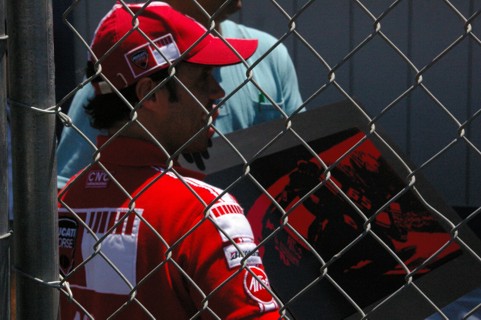 I was lucky to get this picture of Loris Capirossi without his leathers on since most of the Moto Gp riders stayed holed up in their air-conditioned trailers whenever they could. Track temperatures rode up at least a high as 145 degrees Faairenheit each of the 3 days.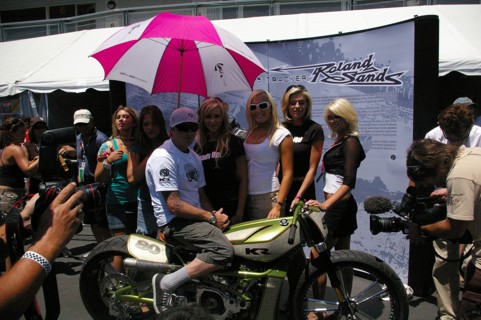 Kenny Roberts Jr. didn't mind leaving his trailer to show off this Roberts bike... I wonder why?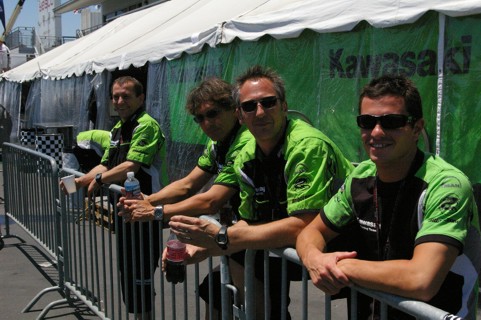 The Kawasaki Racing crew had a virtual smorgesboard of nationalities represented amongst their ranks - Begium, German, English...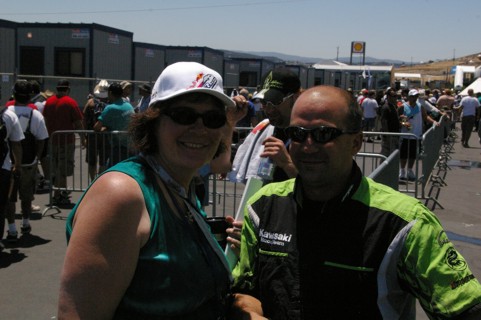 When they heard I was Canadian they said: "We have one of those, too!" Meet "famous Rob" (as they called him) from Montreal. Rob was getting a chance to stop off home after Laguna Seca to add a few days to the 100 "off season" days.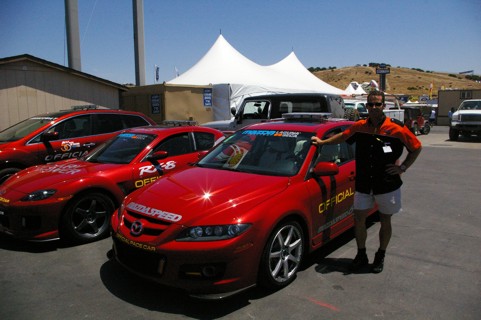 Meet Brett, a professional racecar driver. Evidently it is a rule that the Pace car driver MUST have a professional license.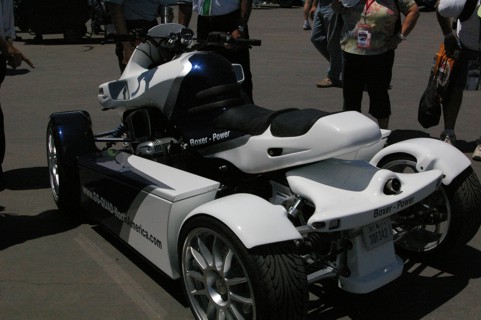 They took a BMW Boxer engine and created this fine looking machine.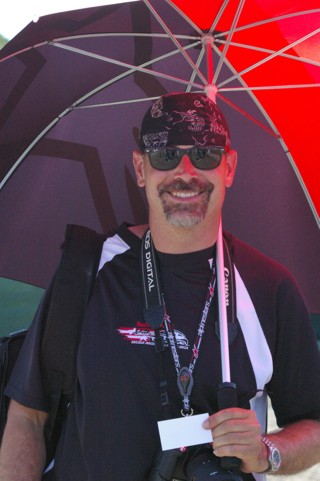 I met this fellow and his spouse (from Saskatchewan) on the drive into Lakebed parking. Lucky him! A fellow walked up to him, gave him a parking pass and voucher for a parade lap for free.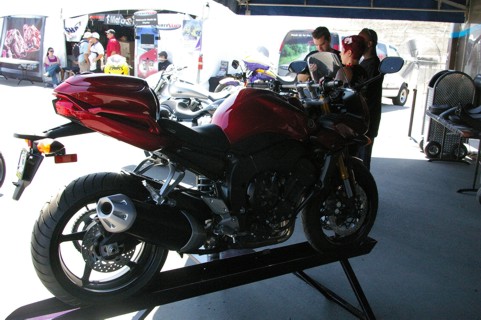 This is the newly designed smuggler seat for '06 Yamaha FZ1s. I knew the FZ1 group in Winnipeg might be interested in seeing it.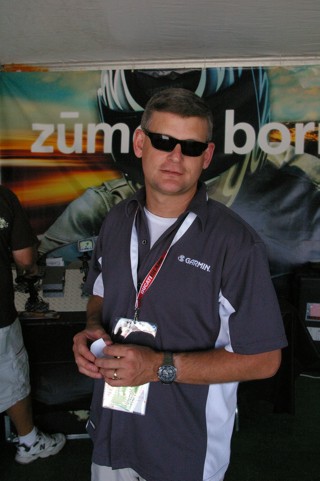 On the way down from the mountains into the California valley where Morgan Hill is located, my GPS froze. Had no idea what to do with it but this man, Rick Evans, who is the Marketing manager of the company gave me the advice to make it function properly again.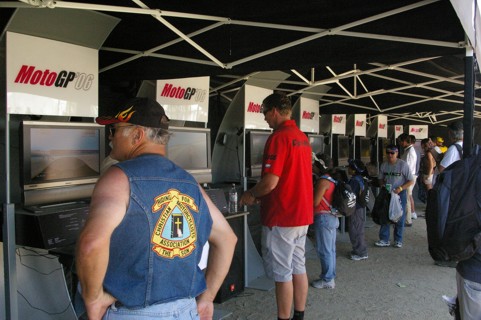 If watching the races wasn't enough for you, go could "ride" in the GP by playing MotoGp '06 on X-Boxes set up at this site.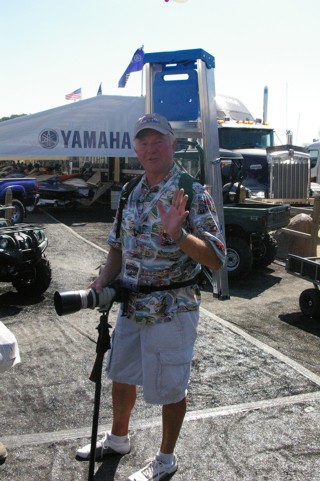 Want to climb a fence to take pictures? Do what this guy did.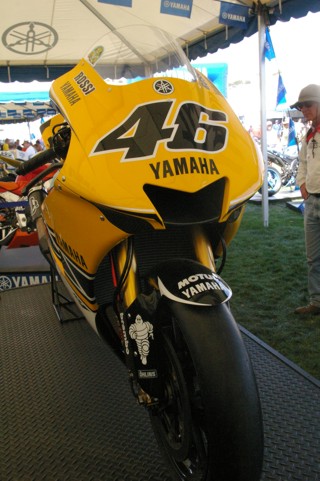 This was Rossi's 50th anniversary '05 bike.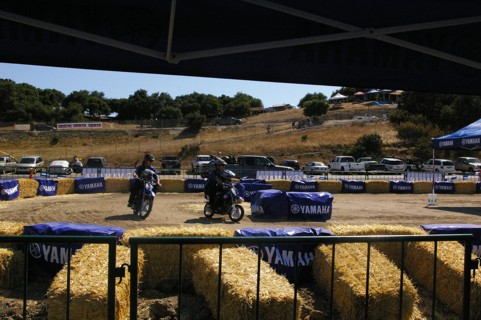 A really cool thing that Yamaha did... they offered lessons for kids under 12 on the same size (little) bikes.