Day Three - A Roadtrip around the Table Rock Area
I woke up to wonderful weather. The sun was shining brightly and there was virtually no wind. The temperature was about 65 degrees Farenheit. Perfect for my first "country ride"!
After talking some suggestions from people at the Country Kitchen (at dinner the previous night), I made my route for the day while I ate breakfast in the loft at the Alpenrose. I met Loraine, James' sister, who agreed with my route decisions. My route is shown on the map to the right.
I started at my hotel (red square) then turned left off Green Mountain Road onto Highway 165 south. 165 was mostly downhill and had many switch-backs. As I got nearer to lake level, I turned a corner to see Table Rock Dam "staring" at me. I couldn't stop and take a picture due to the nature of the road so I continued, only to be met by yet another beautiful sight... the Chateau on the Lake which I could (and did) pull into. (lime green square on map)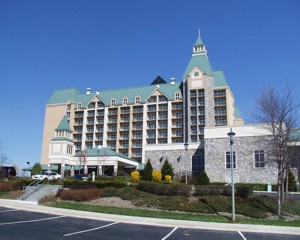 Chateau on the Lake
A beautiful hotel with several gorgeous views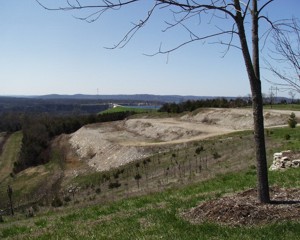 A view from Chateau on the Lake
Looking south towards the dam...
Note: high water level, right, no lake, left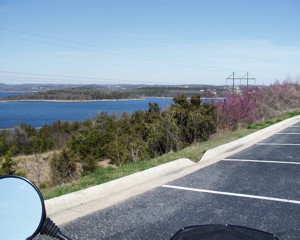 Another view from Chateau on the Lake
Looking northwest onto Table Rock Lake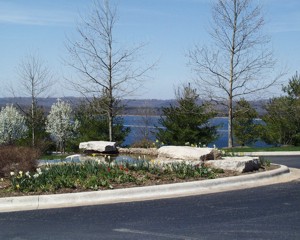 Chateau on the Lake
Garden, Table Rock Lake to the west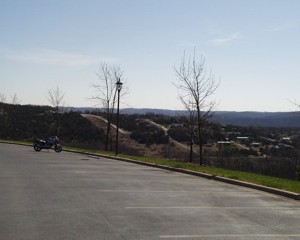 Chateau on the Lake
Parking lot looking back at Branson
I returned to highway 165 then travelled south over Table Rock Dam. On the other side, I stopped to take the following picture at the Dewey Short Visitor Center (golden square on map).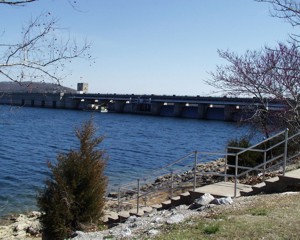 Table Rock Dam
I went back on 165 and continued around several twists and turns to what I THOUGHT was a scenic outlook (Condos at Scenic Point - black square on map) and a gravel road. I decided not to travel down the gravel road since it was very steep and curvy but I parked the bike on the gravel and hiked down a way to take a couple of pictures.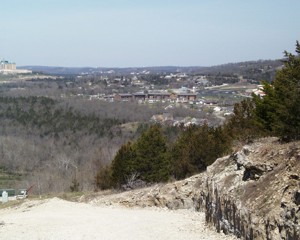 Gravel Road off 165
You can see the Chateau and Branson across Lake Taneycomo
I was no sooner back on 165 when the real scenic outlook (yellow square on map) appeared across from an icecream place called Scoops which was still closed for the "winter".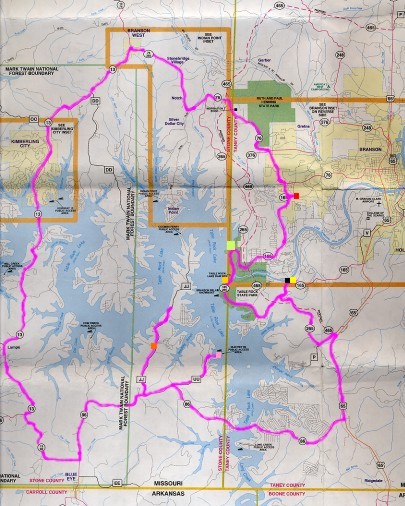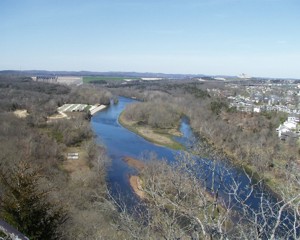 View of Lake Taneycomo
Table Rock Dam is in the upper left corner of the picture.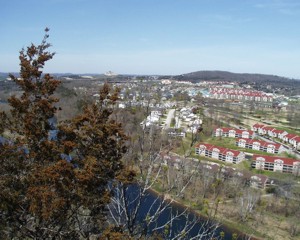 Condos across Lake Taneycomo
After visiting the scenic point, I retraced my route down 165 and turned south onto 265. I took 265 south until it dead-ended at 65 and took 65 south to 86. Highway 86 was a fun ride. Many twists and turns and ups and downs. My first "detour" off 86 was road UU which lead down to the Highway 86 Recreational Area (pink square on map). There was a beach, places to camp a trailer and also a boat launch.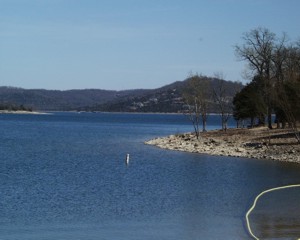 Highway 86 Recreational Area
View of the Beach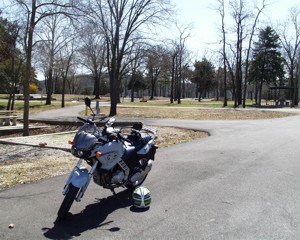 Highway 86 Recreational Area
My bike is parked in an RV parking space.
The only way back to 86 was to go back up UU. I continued west on 86 and took another turnoff onto road JJ. Halfway down the road I had to turn around because the road was closed for a couple of logging trucks clearing trees on one side of the road. On the way back up JJ I stopped at Panorama Drive (orange squareon map) where a lucky homeowner had a fabulous view towards Table Rock Lake.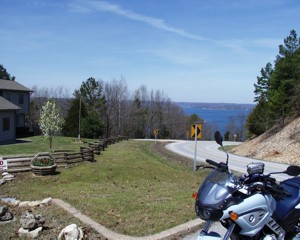 Panorama Drive
Looking back over Road JJ.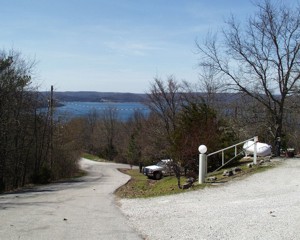 Panorama Drive
Looking down a local access road.
Although it hadn't seemed very far, the day was passing quickly. I continued west on 86 without stopping until 86 intersected with Highway 13. Highway 13 took me north to Kimberling City. I had to cross a looooong bridge to cross back over Table Rock Lake but I didn't take a picture because there was really no place to stop. I thought by then that it was time to head back to Branson before dusk so I skipped by Indian Point and Branson West to go directly into Branson via Highway 76, also known as Branson's main street.
That evening I went to the Jim Stafford Show at (surprise, surprise!) the Jim Stafford theatre. It was an enjoyable show, marked by the appearance of Jim Stafford's 6 year old daughter GG and his 10 year old son Sean who were amazingly talented on musical instruments.