Day One - Winnipeg To Kansas City by Car
Whoo-ee! Was I (am I) pumped? I got up at 4:30 a.m. so we could be on the road by 5:30. The case of Barb's lost glasses slowed things down a bit and we had to load Kargo Krebs so we were off just before 6:00 a.m. BTW I never did find them and to this date, still haven't. Figured my prescription sunglasses would have to do since I could only ride daylight hours only.
Rolf and I did all the driving. He drove from Winnipeg to Fargo. Would you believe that the border police let us in without so much as a What's in the trailer? I drove next but started getting sleepy after an hour and a bit so Rolf drove again to Sioux Falls, SD. I drove the rest of the way to Kansas City since I was finally awake!
We stayed at a nice hotel called the Wellesley in Overland Park. I got a good sleep in anticipation of Day Two!
Day Two - Kansas City to Branson by MOTORCYCLE!!
If I was pumped Saturday, Sunday was way over the scale. I woke up long before my friends and did a bunch of "housework". I washed my motorcycle and packed all I needed for the next few days in my BMW tank bag and my Oxford backpack. I was almost done when the Krebs appeared for breakfast so I finished off quickly and joined them for a serve yourself breakfast of a waffle and fruit juice.
Then it was time to unload the bike. I took a picture of them with my bike and then Michael took a picture of me, ready to rumble!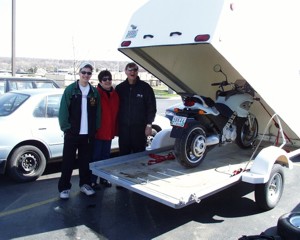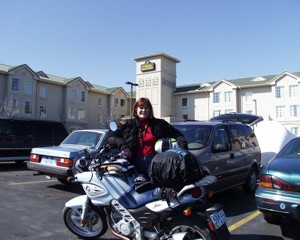 THEN it was time to go! I headed out 95th street to highway 71 then headed south to Carthage, MO, just north of Joplin. I had to put on my rain pants which are windproof because the wind was really cold on the 4 lane divided highway. The sun kept hiding. When it was out, I was fine. When it hid behind a cloud, I'd thank goodness my BMW has heated handgrips.
The highway was in really good condition so I was going 140 kph for the most part but to be honest, the trip to Carthage was boring and uncomfortably cool. It also took a lot longer than I had anticipated. By then I was thinking that perhaps I should stop at Springfield and head south for Branson the next day. I figured I'd make up my mind going east so I stopped for lunch in Carthage at a Taco joint to warm up then headed east on highway 96 which turns out was part of the old famous "Route 66".
Things started getting more interesting. The scenery became more interesting. The two lane road had beautiful countryside on both sides and there were some interesting sites along the way.
I skirted Springfield on its south side and went down 160 to Nixa. There I bought a card reader for my Mac from a Radio Shack. The girls working there recommended I use Highway 65 to Branson because it was "prettier" and because it would only take me about 30 minutes. They were right on both counts!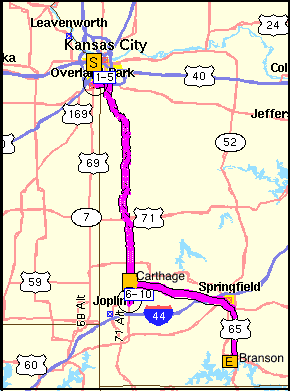 Along the way - Carthage to Branson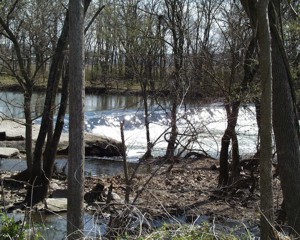 Spring Creek, Just ouside Carthage, MO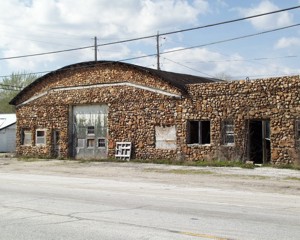 Avilla, MO
There are a lot of stone buildings like this in the area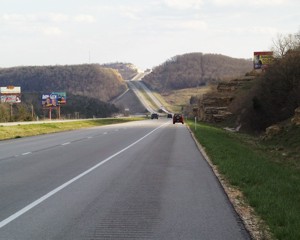 On Highway 65 to Branson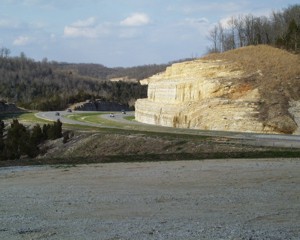 Looking Back over Highway 65
I'm stopped at a tourist center.
I pulled into Branson around 5:00 p.m. I filled the motorcycle's tank at a gas station with the steepest inclined exit I'd ever seen. I survived that only to meet up with Green Mountain Drive, the steepest descent I'd ever experienced to that date. I finally arrived safely at the Alpenrose Inn. I was ready for sleep but the manager, James Hughes, convinced me that rather than resting in my room, I'd enjoy it more if I went to a show. I went to "Legends" which featured Neil Diamond, Patsy Cline, The Blues Brothers, Elton John, and Elvis impersonators. I'm glad I went; it was definitely enjoyable.