The Flight Home
Considering everything that had happened in the last few days (re: bike), it almost seems inevitable that there would be a problem getting home. I got to the San Jose airport early, checked in, and waited for my flight to Chicago.

The flight was a bit late leaving. The 90 minutes between connecting flights was reduced by just a bit. Everything OK again... BUT... tornadoes and severe thunderstorms in the Chicago area closed all runways but one. We were rerouted to Des Moines. We were first on the ground but next to last leaving Des Moines. Translation: arrival in Chicago 9:30... flight to Winnipeg scheduled to leave Chicago at 6:15. ARGHHHH!

Despite the detour, I had a good time on this flight talking with a woman who was relocating from California to South Carolina with her family. Her daughter sat with us for half the flight and then her little four year old (ADAM!) sat with us the second half of the trip. Was he ever a darling! And quite a card shark... before we parted ways, I told him not to beat his Grandma too badly at crazy eights! I wish I had snapped a pic of my little friend however I had promised to put a picture of my puppy dog on my website for him. So here it is... Especially for Adam!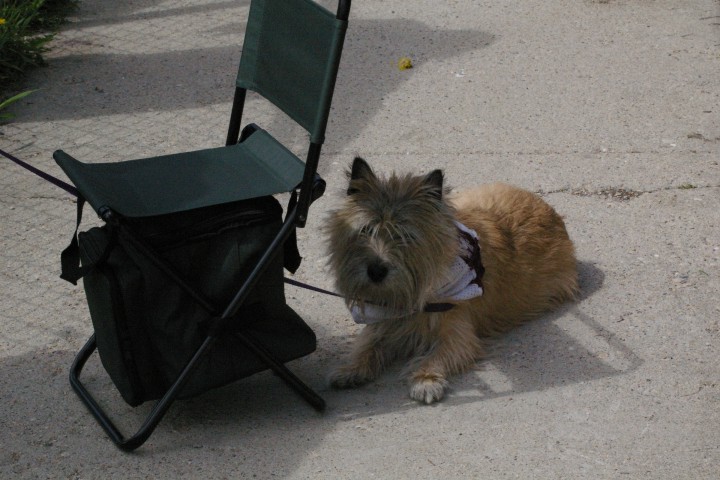 Maggie Mai

When we arrived in Chicago, I assumed the plane to Winnipeg had departed. Not true! Departure time had been delayed: 11:00 p.m. I ran to the gate and there, I met up with a former student of mine... Lucy. Lucy's flight to Dayton had been delayed three times before she decided it was no longer viable to go to Dayton where she was to have been a keynote speaker. She had been waiting for the Winnipeg flight since 6:00. We waited an hour and a half more when, at 10:55, they announced the cancellation of the flight. ARGHHHH!

To book a flight home for the next day, we had to wait in line behind MANY other people. We took a cue from someone else in line and phoned 1-800-UNITED. We were able to book a couple of the last tickets on the 11:45 a.m. flight the next morning. We only had to stay in line to redirect our luggage. Then... where to stay overnight? We were both exhausted and had easily decided to share expenses. Finding a hotel room was not easy. Lucy got the idea to try chains since EVERY one of the hotels on the airport board were booked solid. We also called for a "reserved" taxi. There was a line BLOCKS long at one door of the airport.

We helped a nice young man called Chih-Kuan book a room in the same hotel as us and the three of us shared a cab there. When we got to the hotel, Chih-Kuan's room was waiting for him but OUR room was NOT booked! Fortunately there was ONE (smoking) room left at the very farthest end of the hotel. We didn't care at that point.

We got up early enough to have breakfast before returning to the airport. Chih-Kuan had an early flight and was long gone. We met other delayed travellers. Everyone was telling their own tale of how they'd been delayed. One girl's flight had been delayed due to mechanical problems. She was coming from boot camp where she'd suffered knee damage and was anxious to get home to her two little boys.

Lucy and I also chatted with a young lady who was getting married soon and would be moving from Steinbach to (I think) Selkirk. That started a discussion about restaurants so, of course, Kelekis came up. That included a lady returning from korea with a group of 30. The flight delays might have been annoying but the camraderie between the delayed passengers was nice.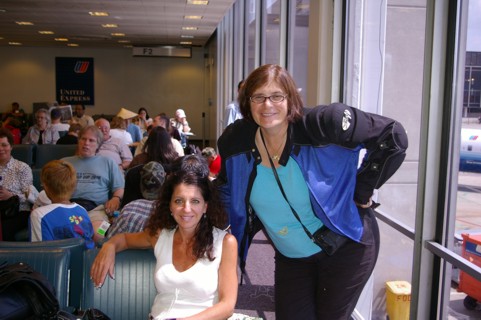 Me and Lucy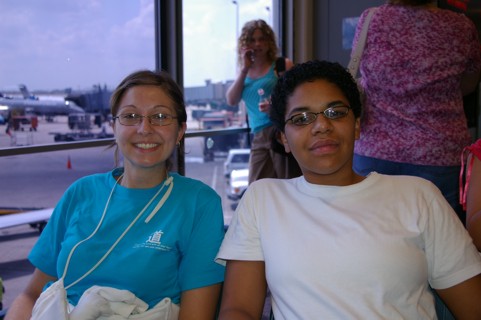 A fellow traveller to Winnipeg and the young lady returning home from boot camp.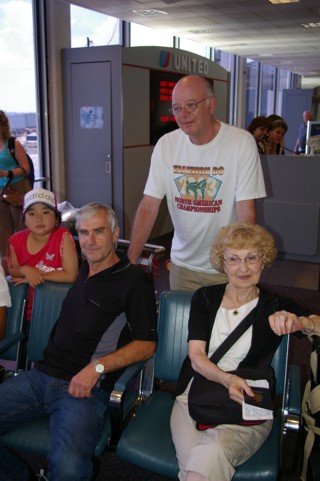 Winnipeg group returning from Korea.

In the end, our flight was delayed and we arrived in Winnipeg late. Two of my pieces of luggage did not arrive with our flight (of course). ARGHHHHH! BUT... home at last!!

Home