Day Five - And the BMer Goes On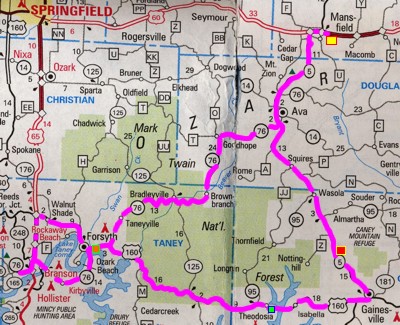 Day Five Route
Another day of sunshine arrived. Again there was some wind but nothing terrible. Once again I planned my route at breakfast. I left a note for Marilyn, Rolf and Michael because they'd told me they expected to arrive around noon and Ifigured I'd still be out biking when they arrived. I headed north on the big highway (65) until I met up with 160 east. Shortly after driving through Forsyth, there was a scenic view looking out over Lake Taneycomo. (see orange square)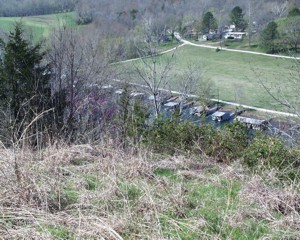 Off Highway 160 Outside Forsyth
There were many houseboats in this area.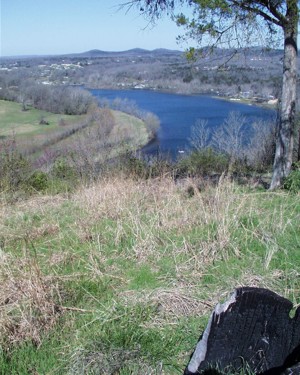 Off Highway 160 Outside Forsyth
What a beautiful view!
Can you see the small boat out on the lake?
Once past Forsyth, I was virtually the only vehicle on the road going towards Gainsville. Even when I stopped past Theodosa (green square on map) to take a couple of pictures, no one passed my parked bike. I passed SOME cars going the other direction but maybe only a half dozen. It felt like I personally owned one of the most awesome motorcycle roads ever!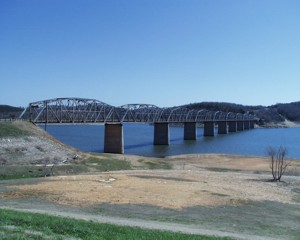 Just past Theodosa
This is only one of many bridges that span the lakes in this area of Missouri.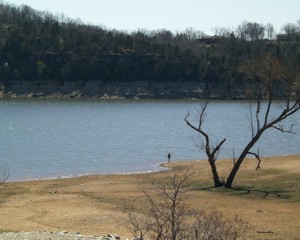 Bull Shoals Lake
Just outside Theodosa, Missouri.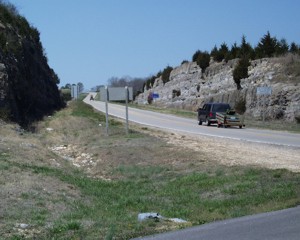 Looking back up the road towards Theodosa
I arrived at Gainsville around noon. I stopped there for lunch but was soon back on the road, Highway 5 to Mansfield. This had been one of the recommended routes on the web but I figure whoever recommended it wasn't adventurous enough to try the twistier roads like 160 which was a way better ride. The scenery, however, continued to be awesome and it was nice to let the bike out full bore. I actually caught up to a string of cars and trucks in a no passing zone so instead of puttering behind them, I stopped at Ozark Road 108E to take a few pictures and relax in the sun. (approximately at the red square on the map)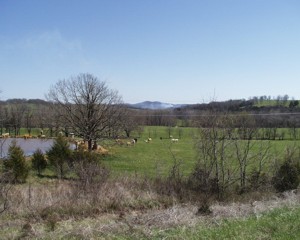 Highway 5 at Ozark Road 108E
Cattle Country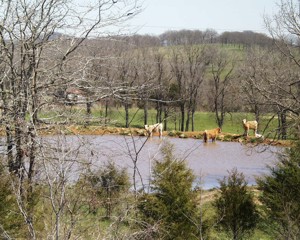 Highway 5 at Ozark Road 108E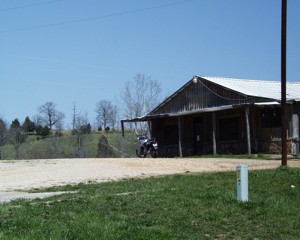 Highway 5 at Ozark Road 108E
An abandoned building on Highway 5
After giving the string of trucks and cars time to get ahead of me, I resumed my ride to Mansfield. Once in Mansfield, I visited the house in which Laura Ingalls Wilder lived with her husband Almonzo (yellow square on map). Evidently they moved from the South Dakota in the early 1900s and Laura wrote all her Little House books there. The museum that related Laura's and her family's history was actually very interesting.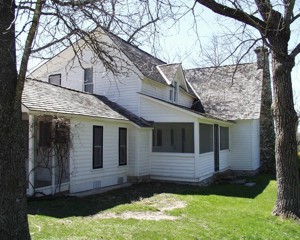 Home of Laura Ingalls Wilder and Almonzo Wilder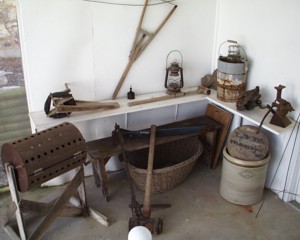 Wilder Homestead
Implements dating back to 1957 and earlier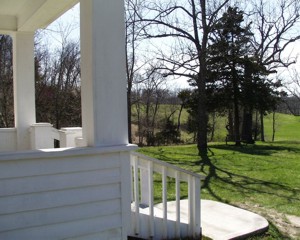 Wilder Homestead
What a great view out onto their land!
I drove back down Highway 5 south and turned off onto Highway 76 west to Branson. Once on 76, the ride became colorful again; both the scenery and the road drive-ability was greatly improved. Part of this route recrossed my route to Gainsville. Then there was yet another drive across a really long bridge (this time across Lake Taneycomo just short of Forsyth). As I neared Branson, the roads became much steeper. One last bridge across Lake Taneycomo brought me into the "old" Branson. A few minutes down the main drag and Green Mountain Road and I was back at the Alpenrose by about 4:00 p.m. Awaiting my return were my friends. They had stayed to shop a bit in Kansas City that morning and had only beat me to the hotel by about a half hour. While I waited for Marilyn, I took some pictures around the Alpenrose.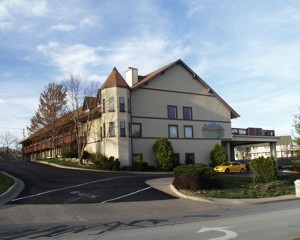 The Alpenrose Inn
A nice place run by a nice family!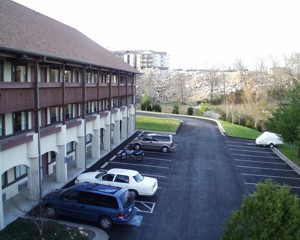 The Alpenrose Inn
A view from the deck above the main lobby.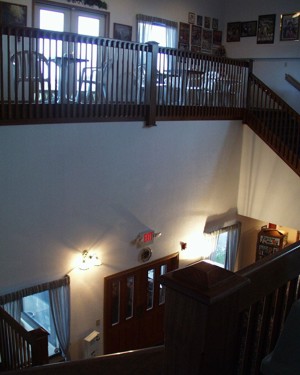 The Alpenrose Inn
A view into the lobby from the breakfast area.
Thousand Lakes Golf
A view of the area across the road from the Alpenrose.
Marilyn and I went to the Remington Theatre to pick up our tickets for the Kirby Van Burch Magic Show for the following night. We also went to the "Back to the 50s" Theater to pick up tickets for that evening. I was glad we picked up tickets for the 50s show. It turned out to be highly entertaining. We ALL enjoyed ourselves at this show.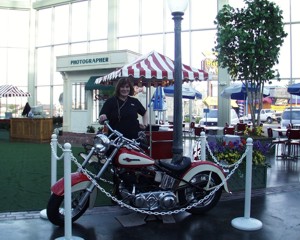 Hey! It's me and a Harley??
Lost in the 50s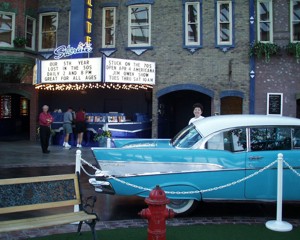 Marilyn in front of the Box Office
Lost in the 50s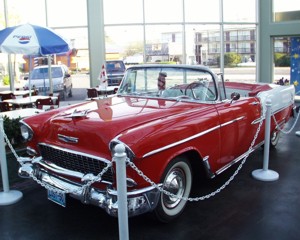 The entire building was "dressed" for the 50s
Lost in the 50s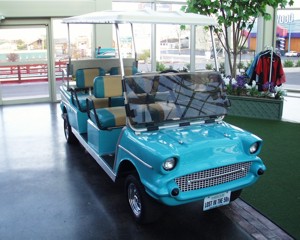 A different kind of chevy!
Lost in the 50s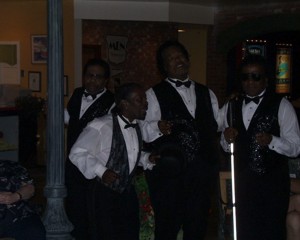 Prior to the performance
The Platters - Lost in the 50s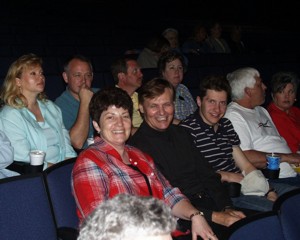 My friends are ready for...
Lost in the 50s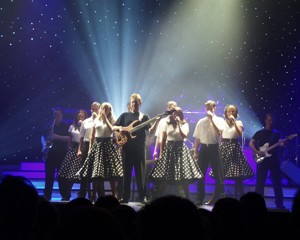 The Finale
Lost in the 50s